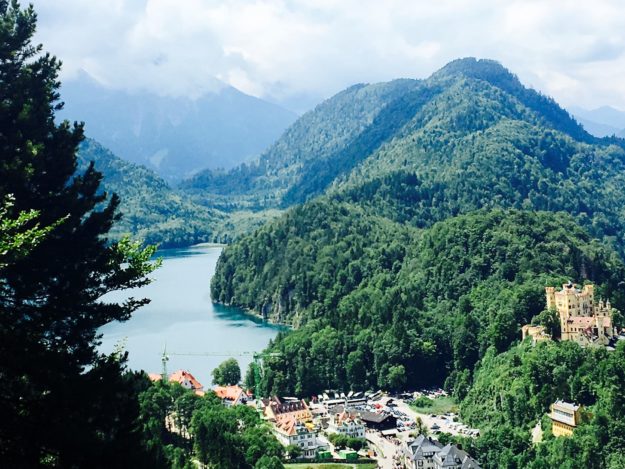 I only spent two days in Munich, but it left a lasting impression on me. The grander of the Alps, the many shades of green, the opulent castles, the delicious food, and helpful people, all left me wishing I could stay longer. It may have only been a stop-over on my way to Austria, but the bier, brats and beauty of Munich Germany will bring me back.
The Alps
It took us about an hour until we were outside of the city and passing beautiful green farm fields, giant windmills and starting to see glimpses of spectacular mountains poking through the mist in the distance.  The closer we got to the mountains, the more excited I got. My heart was racing as I took picture after picture of the grand mountain peaks towering above charming Bavarian villages.
Dreamy Castles
I signed up for a day tour to visit two fairy-tale looking castles. The first stop was Linderhof, the smallest of the three royal castles built in the 19th century by King Ludwig II, who was known for being quite eccentric. He was never married and died a suspicious death at the age of 41. The palace was built in the French Rococo style and is surrounded by perfectly groomed gardens and picturesque landscaping. A large white swan swam elegantly around the glassy pond and colorful flowers lined the shore. Outside the palace was a gorgeous fountain that shot high into the air every half hour. The inside of the castle was even more impressive. Every nook and cranny was gleaming with gold plate atop extraordinary designs. The walls and ceilings were covered in murals honoring various legends or religious figures.  The color and detail was incredible! The king's bed was especially lavish, covered in blue velvet and silk with real gold embroidery and accessories. I stared in awe and couldn't help but wonder what it must have been like to live as royalty in such a beautiful palace.