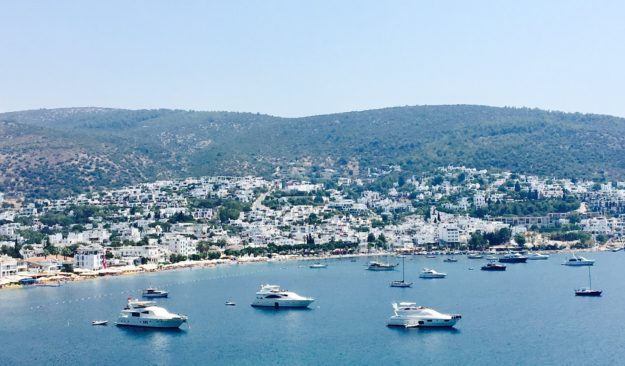 A few days into my Kos trip, someone asked me if I had been to Bodrum yet. "Is that one of the islands?" I asked in ignorance? Imagine my surprise when I found out it was Turkey, and only a 45-minute ferry ride away! I had an amazing day in Bodrum, Turkey, and to me it will always be the city of wonders.
Getting a Ticket
There is only one ferry that does a day trip to Bodrum. The rest of them leave in the evening and come back the next day. I tried to buy a ticket on line but had problems with the system, so I got on my scooter and rode to the office only to find out they were closed. In fact, many office close for several hours in the afternoon in Greece. With no other options, I decided to show up about an hour before departure the next morning, hoping they would still have available tickets. Success at last! With my ticket in hand I still had time to enjoy a Turkish cup of coffee before the voyage.
Turkish Coffee
The Turkish café near the marina brought me my steaming cup of strong coffee and I asked for some cream or milk. The woman just shook her head, stared at me with a blank face, and walked away. I wasn't sure if she hadn't understood me, or worse, maybe I had offended her. That is when a girl at the table next to me spoke up and explained that you don't put milk or cream in Turkish coffee. It is unfiltered, so all the grounds sink to the bottom of the cup. If you pour milk in it all the coffee grounds will resurface. I asked her if you could then just wait for the grounds to sink to the bottom again before drinking it. She crinkled her brow, looking a little perplexed, but acknowledged that would probably work. A few moments later the woman did bring me some milk after all. It seemed like a pretty big ordeal for a single cup of coffee. The girl next to me also explained that fortune tellers in Turkey look into the grounds of the coffee at the bottom of your cup in order to tell your fortune.