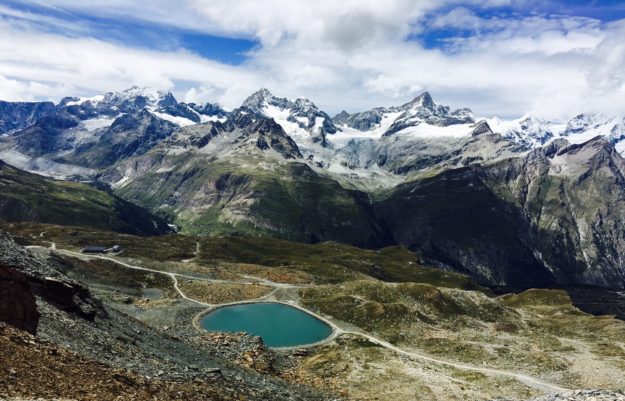 Zermatt Switzerland reminds me of Whistler, Canada and Rhotang Pass in India mixed all together. The panoramic views of the Alps, combined with the easy access to world renowned trails for recreational sport, make Zermatt, Switzerland a biker hiker, skiing paradise for tourists from around the globe. And by biker, I mean bicycles, because no gas engines are allowed in the town, nor are any private cars. The taxis and delivery vehicles are all electric, and residents get around by walking, bicycling, cable car or train. It leaves the air smelling about as pure as you can find anywhere on the planet.
Matterhorn Glacier Paradise
With a cost of about $135 USD for a round trip to ticket, it's expensive to get to Matterhorn Glacier Paradise, but it was worth every penny. It sits at an elevation of 12,739 feet and the view will leave you breathless. It's about a 45-minute cable car ride to the top. As you sit in the relative comfort of your cable car, you look down on glaciers, green meadows with pretty wild flowers scattered about, pristine waterfalls, and lots of people hiking and biking the trails. At the top, there is an ice palace full of ice caves and ice sculptures, a restaurant, café, and panoramic viewpoint for tourists to enjoy.